Global eCommerce businesses have been on a fast-track growth for the past decade. A survey by Statista shows that the eCommerce industry is set to go beyond the $2 trillion in 2020.
If you are shipping through FedEx, UPS, or DHL, generally most packages reach their destinations intact and on time. However, what should you do on those rare occasions when a package goes missing during transit? Who will have the responsibility to handle the situation in case FedEx or UPS lost packages? The eCommerce store or the shipper?
In January 2020, there were reportedly 1.7 million lost or stolen packages per day in the US, which resulted in losses worth $25 million on an average. Particularly, during holiday seasons, with the surge of deliveries, more packages go missing.
When such instances happen, mostly retailers take the brunt. A study by Voxware shows that almost 70 percent of customers will be reluctant to shop with an eCommerce store if their purchased item is not delivered within two days of the scheduled date.
How to Determine a Package is Missing?
Although most eCommerce shipments reach their destinations safely and on time, on various occasions packages are lost or stolen. For example, nearly 90,000 packages go missing every day in New York City alone.
This is why eCommerce businesses need to step up to figure out where and when a package is lost to retain customers' trust.
So, how does a retailer determine that a package is missing?
According to the current policy, if a package goes missing and has not arrived at his/her place 4 or 5 days after the scheduled delivery, then then it is officially lost.
Losing packages creates anxiety for customers, and they turn to the respective eCommerce merchant for help, and the real challenge starts from there.
Generally, after an order is shipped, the relevant eCommerce store provides a tracking link to customers. However, if the package is lost, customers cannot get any update from the tracking website. In such cases, retailers need to take up the matter and contact shippers such as FedEx, UPS, or DHL to trace the package.
When online shoppers claim a refund for their lost or stolen package, the onus of replacements or refunds is mainly on the shipper if the package was insured. Before that, the retailer needs to act quickly and put an effort to retrieve the package. Start by checking the tracking information of FedEx/UPS/DHL tracking information to confirm the status of the customer's package.
If you suspect that a package is lost, tell the customer to wait for a maximum of seven days after the date of the expected delivery. Often packages turn up late due to a delay during the transit or for rerouting somewhere along the way. Sometimes packages are incorrectly scanned or sorted.
If the tracking number shows that the package has been delivered and the customer still files a complaint about it as lost, then it will be treated as a stolen package.
Challenges in Recovering the Cost of Lost Package
If a package is lost, the customer will surely ask for a refund or a replacement. If the shipping carriers such as FedEx, UPS, or DHL cannot locate the package, the next step for the customer is claiming the insurance to recover the value of the package. As a merchant, you need to guide the customer along with providing the tracking number, proof of the item's valuation, and the proof of insurance.
The latest data from Clutch (customer data & marketing firm) shows the followings:
Nearly 50 percent of online shoppers claim that they did not receive the packages they ordered in the last six months. According to 32 percent of customers, they think their packages went missing during transit.
Almost 16 percent of online customers claim that their packages were either lost or stolen, while 29 percent are not sure why they did not receive their package.
Nearly 57 percent of online shoppers say that their parcels are left in the outdoors, or an unsecured area like the front porch.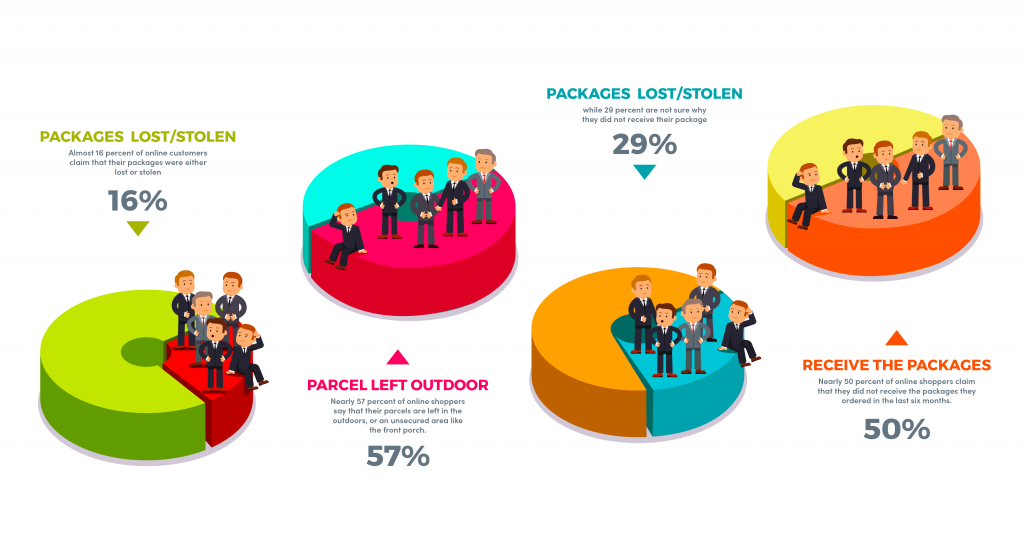 Generally, for a lost or damaged package, the responsibility lies with you to either issue refunds or replacements to the customer. This is not only a setback for your business but also your customer satisfaction level.
It is no wonder why eCommerce merchants dread any occurrence of a lost package. However, you can learn from such an experience and better prepare to deal with such issues in the future.
Now, let us list some of the reasons that could result in lost packages:
An incorrect address is mentioned on the package.
There was no return address specified in case FedEx/UPS/DHL had to return the package.
While using shipping software, the box "return to sender if non-delivery" was not filled out.
If any of the above issues happened, the eCommerce merchant is responsible for any lost package. In such cases, you need to refund your customer or send a replacement product. Sometimes you may even need to do both, which depends on the situation.
In both ways, this is a financial loss for your eCommerce company. After doing everything correctly, your package should reach customers on time and intact. However, even a small mistake can be costly.
Besides human errors, the problem of package theft has increased significantly since 2017 and has gone up sharply during the COVID-19. It is because more people ordered online due to stay-at-home and social distancing.
Between March and mid-April of 2020, eCommerce spending went up by more than 30% compared to the same period in 2019. Due to the rush to buy groceries, books, and other items online during the pandemic, eCommerce merchants and shipping carriers struggle to deliver packages on time.
Due to a huge volume of online orders, carriers like FedEx, UPS, and DHL had to pause their service guarantee temporarily, which usually issues a full refund to customers for the delivery of packages after the scheduled date. The suspension of this service guarantee indicates that FedEx and UPS expected more delivery delays considering higher volumes of packages.
During the pandemic, the instances of lost or stolen packages were more than 25 million in the last 90 days, as per a survey carried out from May 17 – 23, 2020.
When it comes to recovering the cost of refunds for lost or stolen packages, shipping insurance can give peace of mind to you as well as customers.
There are two main attributes for insuring a package: the item's value and the risk of getting lost, stolen, or damaged during shipping.
So, the equation of average insurance per item is below:
Source: shippingeasy.com
The bottom line is if the average cost of insuring an item is lower than what you spend, for replacing lost, stolen, or damaged items, you should go for insurance to mitigate the risk and cover the cost.
How to file claim requests for FedEx/UPS lost packages online?
Generally, the tracker on packages rarely allows them to go missing during transit. However, often such instances occur, including when the shipping label is not in place, or the parcel is damaged, and the items inside get scattered. In those cases, customers have no option other than filing for a lost package claim with the carrier.
For example, if a FedEx package is lost, and the items inside it cost below $100, guide the customer to fill out the entire form online and request for a refund without submitting any documentation.
On the other hand, if the cost of the parcel is above $100, proper documentation is required for processing the claim.
Supporting documents may include FedEx pickup record, images of the lost or damaged items, and the proof of value.
The following is the summary of the online claims process for FedEx, UPS, and DHL:
FedEx makes it easy to file claims online for customers or merchants through the "File a Claim." A claim for an undelivered or lost package needs to be filed within nine months of the scheduled delivery.
In the case of a UPS lost package, a claim has to be filed online within five months, within nine months via customer service, and within 45 days in case there is uncollected cash on delivery (COD).
For a DHL lost package, a claim has to be filed within 30 days.
If you are a merchant that ships in bulk by using multiple carriers such as FedEx/UPS/DHL, an automated process will be efficient.
How to keep customers happy despite delivery issues (Hint: Track, notify and send a replacement)
If a package is lost, it affects the customer's satisfaction level. Moreover, if such instances happen frequently, it may dent the reputation of your eCommerce business. This is why you need to be proactive to protect your investments and packages and keep customers happy even in a difficult situation.
In the previous section, we already discussed adding insurance to your package. Besides, you need to address the issue of a lost package with empathy before a customer's grudge affects your future business.
Tracking FedEx Lost Packages
FedEx has clear guidelines or policies regarding lost or stolen packages. If you have shipped an order through FedEx, even the customer can file an online claim for the lost package. As a retailer, you can do the same on the customer's behalf, and FedEx usually resolves the claim within 5 to 7 days.
According to the FedEx policy, customers, retailers, and even third parties can file claims for a lost package within 60 days and nine months to claim their stolen package. Customers only need to provide enough proof to support their claims, such as shipping receipts or insurance files.
When you report to FedEx a customer's package is lost, the carrier will try to trace and locate where it went missing. They will notify the customer as soon as the issue is resolved as lost or found via email.
Tracking UPS Lost Packages
UPS has several policies regarding lost or stolen packages for both local and international shipping. The company suggests customers contact the relevant eCommerce company about their lost package once 24 hours pass after the scheduled delivery date. The process of claiming refunds for international shipments can be a little complex.
UPS encourages both customers and merchants to report a lost package. After you report a lost package, you can keep checking its status online. According to the UPS policy, once a customer files claims for refunds or replacements for lost or stolen packages, the company initiates investigations before issuing any refunds.
Tracking DHL Lost Packages
In case a customer does not receive your eCommerce shipment, you need to contact DHL right away to track the package online. The DHL regulation says if a customer's package does not arrive within 10 days after the scheduled delivery date, as an eCommerce service provider, you have to investigate the lost item. You can start doing that by tracking the customer's shipment using the DHL tracking link.
Track FedEx/UPS/DHL shipments on a single portal
AuditShipment's real-time delivery monitoring and notification help you stay on top of order-deliveries. Allow your support team to manage all disputes from a single portal. Schedule delivery notifications to customers based on shipment transit statuses. Proactively intervene inferior delivery service well before your customer escalates it.
While trying to trace a package, keep the customer updated throughout the process to ensure that he/she retains trust in your brand, and stays loyal even after a poor delivery experience. If the delivery was a time-sensitive one, for example, a birthday present, send a replacement immediately so that the customer does miss out on the pleasure of giving the gift to his/her dear one. Treating a customer well in a situation like this will go a long way to retain their trust and loyalty.

ShippingChimp's Solution for Lost Packages
ShippingChimp facilitates eCommerce businesses to host a dispute management portal within their shopping site. Shoppers can simply lodge their lost or damaged order disputes by logging into this portal. A self-serve to collect your customer delivery grievances turn them into delight. Contact us for a walkthrough of our customer delivery experience enhancement services.