In a recent statement to CTV News, a Canada Post spokesperson said: "that the influx of packages is exceeding those seen even during the busy Christmas season". With the increase in package volume, there has been an appalling rise in delivery delays.
Closure of malls and stores has not stopped consumers from shopping. They have now shifted their focus to e-commerce. According to  digitalcommerce360, eCommerce shipments have increased by 47% over a period of 30 days. 
You can see the week on week growth in orders in comparison to last year in the graph below.
As an e-commerce business, it is a cause of serious concern when your packages don't reach customers on time. One bad delivery experience can ruin your brand reputation forcing your customer to switch to your competitor
While Canada Post is the most popular shipping carrier that serves 190 countries apart from Canada and the USA, delivery exceptions remain a cause of concern.
Angry customers take to Twitter to vent their rage over unexpected delivery delays or being left clueless about the status of their order. Although Twitter rage is directed towards Canada Post, retailers who shop through Canada Post are indirectly affected. They cannot evade the responsibility of delivering orders on time to their customers.
Check out their tweets at Canada Post Helps Twitter account :

Before we dive into reasons for Canada Post shipping delays, let's take a look at there various shipping services offered by Canada Post
Canada Post offers the following shipping options based on price and expected time of delivery:
Priority Shipping: Parcels like important documents or papers which are time-sensitive in nature can be delivered through priority. This is the fastest shipping service provided by Canada Post. The delivery is scheduled for the next day for domestic deliveries.
Expresspost: It is fast and affordable. You can track your items, confirm delivery with a signature, and get on-time guarantees. Express Post parcel are delivered in 2 days within Canada.
Expedited Parcel: Cost-effective ground shipping with delivery tracking. Available only in Canada and US. The delivery window is 1 – 2 days for domestic deliveries.
Tracked Packet: Affordable, and trackable shipping service for small, lightweight items to the United States and 20 international destinations. Usually, tracked packets are delivered to the US in 4-7 days.
International Parcel: Suitable for non-time sensitive international shipping. The delivery schedule is 6-12 days by Air and 4-7 weeks by surface.
A summary of all services and their estimated delivery time is shown below: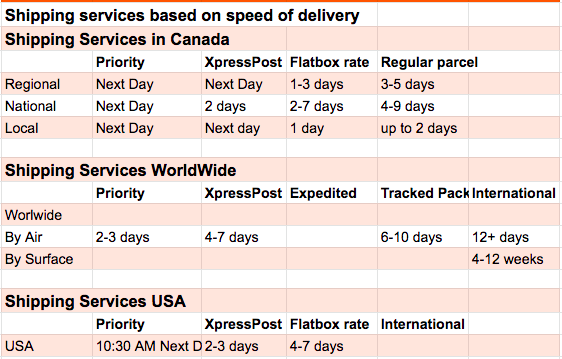 Source: CanadaPost
Despite estimated timelines associated with each of these service types, Canada Post deliveries are frequently delayed.
Here are the most common reasons for Canada Post delays

Bad Weather: For shipping companies, safety is a priority. Poor weather conditions can cause the closure of roads, delay flights which ultimately slows transit causing delays.
Traffic: More chronic in congested cities, sometimes traffic bottlenecks, roadblocks, accidents, etc can create unavoidable delays.
High Volume Shipments: Especially common during the holiday season when people go on a shopping spree, a sudden increase in delivery volumes makes it difficult for shipping companies to handle.
Poor IT Infrastructure: Outdated software or old hardware can create too much pressure on delivery companies and makes their delivery process less seamless.
Lack of proper documentation: Canada Post is not responsible for all the delays. Sometimes lack of proper documentation in the form of misspelled or incomplete addresses can also cause delays. 
Service Failure: Sometimes the cause of shipment delay could be due to poor performance of the carrier. Miscommunication, disruption in the last-mile delivery chain or lack of coordination within the Canada Post system.
Retailers have little control over delivery delays in order to offer their customers a seamless delivery experience. However, there is a silver lining. Canada Post offers a slew of service guarantees for delivery failures. Specifically, if a shipment has been delayed due to carrier's mistake.
This is where Canada Post money-back guarantee comes in.
To compensate you for the loss which occurred due to delayed shipment, Canada Post provides postage refunds on those shipments.

What Canada Post says about their money-back guarantee?
You may qualify for a postage refund if:
You are the sender of the parcel and you have a copy of the mailing receipt.
You used one of our On-Time Delivery Guarantee services.
For Canada:
Parcel was sent through Priority or Xpresspost or Expedited Parcel (commercial only) service.
The parcel arrived post guaranteed delivery date. Track your parcel here to ensure that the date has passed.
Your claim should be submitted within 30 business days of the guaranteed delivery date.
For US and International:
The parcel was shipped using Priority Worldwide, Xpresspost USA, or Xpresspost International service.
Your parcel was delivered later than the guaranteed time for its destination. Track your parcel here to ensure that the date has passed.
Your parcel didn't have restrictions that may have caused delays in customs.
Your parcel wasn't delayed by U.S. or international customs.
How to claim for Canada Post delays
You need to submit an online service ticket.
Follow these simple steps to initiate claim request for Canada Post delays
Sign in to Canada Post account.
Create a service ticket 
Submit the details of your delayed package.
You'll receive a confirmation message and an email with all the ticket details. Canada Post reviews your request and issues you a refund if you're eligible.
The catch is that for every package you have to raise a service ticket and follow the above-mentioned steps over and over again. Moreover, every wrong claim will result in a penalty fee. For a retailer who ships thousands of packages in a month, it is impossible to go over every delivery delay and dispute eligible service failures. That's why at AuditShipment we have automated the process of identifying service failures and recovering refunds on your behalf. Do you want to consult our logistics experts for a quick refund recovery calculation? Contact us