You could be a business that ships 100 packages a week or 100,000 packages a week. Regardless rising shipping costs is your biggest challenge. Especially when you ship through major global carriers such as FedEx or UPS. But shouldn't the contrary be true? When you have identified a world-class shipping partner to manage your last-mile logistics, all you have to do is focus on scaling your business right?

Well, it is complicated.
UPS and FedEx have approximately 3000 distribution centers and 800,000 personnel working round the clock to provide a seamless last-mile experience for your customers. Yet in reality, their system is clogged with glitches. From delivering shipments at the committed time to charging the right price for shipments, it is ridden with failures and errors.

Moreover, the shipping needs of business keep varying. The shipping rates don't remain constant either. FedEx and UPS incorporate a new shipping rate YOY. This results in an incredibly complex shipping invoice. As a business, it is tough to put a cap on your shipping expenditure.

The solution is quite simple

All you need is a systematic process of auditing your FedEx and UPS shipping invoices. It is imperative that the process is efficient as well as effortless. Obviously, the invoice-auditing process must be agile to accommodate the fast-changing shipping landscape.
The verdict is clear and points to an automated invoice audit process. Yet businesses resist adopting audit automation.

Let's take stock of the potential roadblocks in the road to automated invoice auditing.

Victim to sunk cost of employee training

When you are in the early stage of your business, hiring an in-house logistics or operations resource to audit your invoice makes sense.
But when businesses scale, the auditing process becomes stressful. With the increase in invoicing frequency or a massive number of shipments, checking for overcharges against every package can be overwhelming.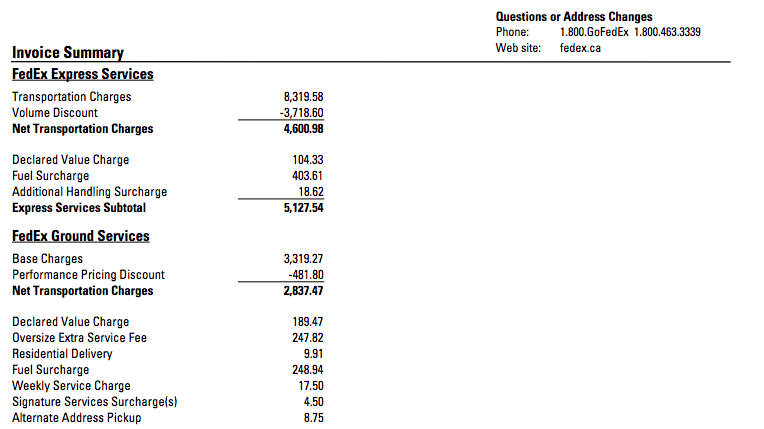 On an average any FedEx invoice comprises of the following basic components:
1. Transportation base charges
2. Residential delivery charges
3. Third-party billing charges
4. Additional handling charges
5. Service charges

All these charges are susceptible to errors. There are more than 50 errors on your shipping invoice. Check out the errors here.
Add to that incorrect discount, duplicate billing errors and errors in the pre-determined tariff rate, can inflate your shipping spend.

Saddled by monotonous work ( not to forget the enormity of task), resources employed to audit only tend to miss out on cost recovery opportunities. Do you fire the current employees and hire new resources? This means you have to reset the entire cycle of hiring, training and inducting and start all over again. Do you employ additional hires?
Increasing the man-hours to weed out the invoicing mistakes does not ensure 100% accuracy.
Consequently, your business will spend on extra resources without really curbing the shipping cost leakages.
No wonder your bottom line is sinking!

Imprisoned by limitations of sheets or excel
Excel is extremely powerful. It not only serves a huge storage space for all data but also has the capacity to carry out multiple complex operations. Spreadsheets offer an effective and inexpensive solution. However as the volume of data grows exponentially, it can be limiting. You can easily get frustrated shuttling back and forth between sheets.

Let's carry out the task of identifying dim-weight pricing errors with the help of the spreadsheet:

Well for starters, dimensional weight pricing is based on cubic spacing a package occupies. Both FedEx and UPS compare the actual weight of a package against its dimensional weight. Whichever is higher, the shipment is charged accordingly.
In order to find discrepancies in dimensional weight pricing:
The first logical step would be to list the various service type and their corresponding Dimensional charges
Next would be to categorize dimensional charges based on various zones
You list the discounted rates based on the SLA with your carrier
In the next sheet, you calculate the charges that you must be invoiced.
Then you move on to list actual invoiced rates
The last step is drawing a comparison between actual vs calculated rate.
Here's a sample working on a spreadsheet: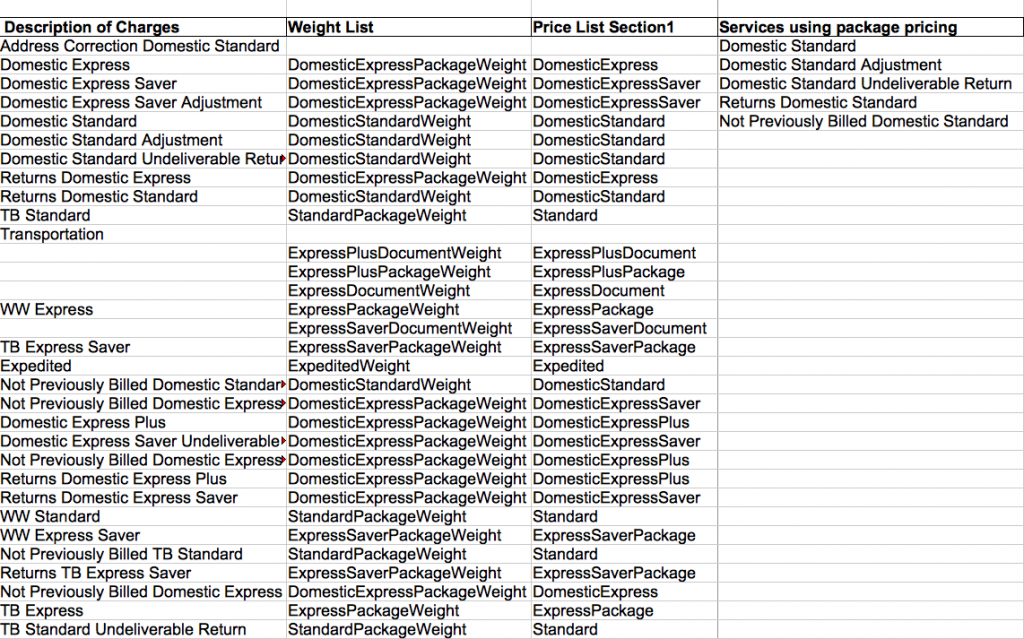 But when businesses scale, the auditing process becomes stressful. With the increase in invoicing frequency or a massive number of shipments, checking for overcharges against every package can be overwhelming.
It does not seem daunting right? Hang on.

Did you factor in the single piece rate and multi-piece rate?
Have you differentiated between express, expedited and ground rate and 3 other service types?
All you have to do now is to apply it to a few thousand packages.

Well, it is not impossible but highly time-consuming.

An automated audit process will help you sift through the massive volume of data in no time. Besides, it will also help you match against intricate rules associated with every service failure like delivery area surcharge, late deliveries, dimensional weight pricing to name a few.

When fixing the problem is not enough

Shipping cost optimization is not a siloed problem. Any changes to your shipping cost set off a ripple effect that impacts your entire supply chain operation. Periodically reviewing your shipping costs and claiming refunds is great. As your business grows, you want a streamlined proactive audit process. Not a sporadic contingency based quick fix.

Taking a single dimensional approach may solve the problem temporarily. But what you need is a systematic fail-proof process. So choose an auditing partner who conducts in-depth auditing as well as offer you holistic insights to better your supply chain management.

Also, it is crucial for the software to act as an extension to your logistics team.
The automated process should be capable of quickly bringing your logistics team up to speed on potential cost recovery areas.

An auditing platform such as AuditShipment offers the convenience of contesting all the overcharges on your FedEx/UPS invoice. It also offers an in-depth shipping intelligence platform that will help you :

Choose alternate shipping carrier with diligence
Tweak your shipping profile ( shipping method, package size etc)
Evaluate FedEx/UPS delivery performance
Compare your shipping discount with industry benchmark
Make intelligent decisions with respect to the distribution facility
It is hard to trudge through hundreds of invoices, identify each and every instance of overcharges and errors. An easy remedy would be to enlist an automated invoice audit service that does the heavy lifting for your business.