Global small-medium businesses attribute 26 percent of their revenue growth to international sales. As an online retailer, a critical part of taking your store global is to ship internationally. However, shipping overseas with ease and confidence can be challenging. Luckily DHL, FedEx, and UPS provide premium international shipping options for a smooth go-global transition.
Why expand your business internationally?
Now the prospect of cross border selling is immensely enticing for a flourishing online business. Further, marketplaces help solve currency conversion issues and offer international exposure to customers to create new business opportunities.
Therefore, if you wish to foray into the international market, you have to meet the challenges of shipping internationally head-on.
According to Statistica, worldwide eCommerce sales will grow almost 246 percent- from $1.3 trillion to $4.5 trillion between 2014 to 2021.
The average order value of an international sale is $147 USD according to Statista which is almost 17% higher compared to an average domestic sale.
Pitney Bowes report states nearly 93% of existing online retailers either already offer or plan to offer international shipping by 2019.
According to the global UPS Pulse on the Online Shopper study, the global competition for customers is steadily increasing. A significantly growing number of shoppers buy from sellers across international borders including 83% in Canada, 81% in Brazil, 78% in Mexico.
Retailers who offer premium international shipping grow 60 times faster than those who don't.
This rampant international growth is undoubtedly exciting but meeting customer delivery expectations also remains a challenge — an international post corporation survey back in 2017 found that 62% of international buyers still expect to receive free shipping when shipping internationally despite the unpredictable cross-border issues and the higher costs.
There is an immediate need for an efficient, reliable premium shipping service for a global audience.
International Shipping Challenges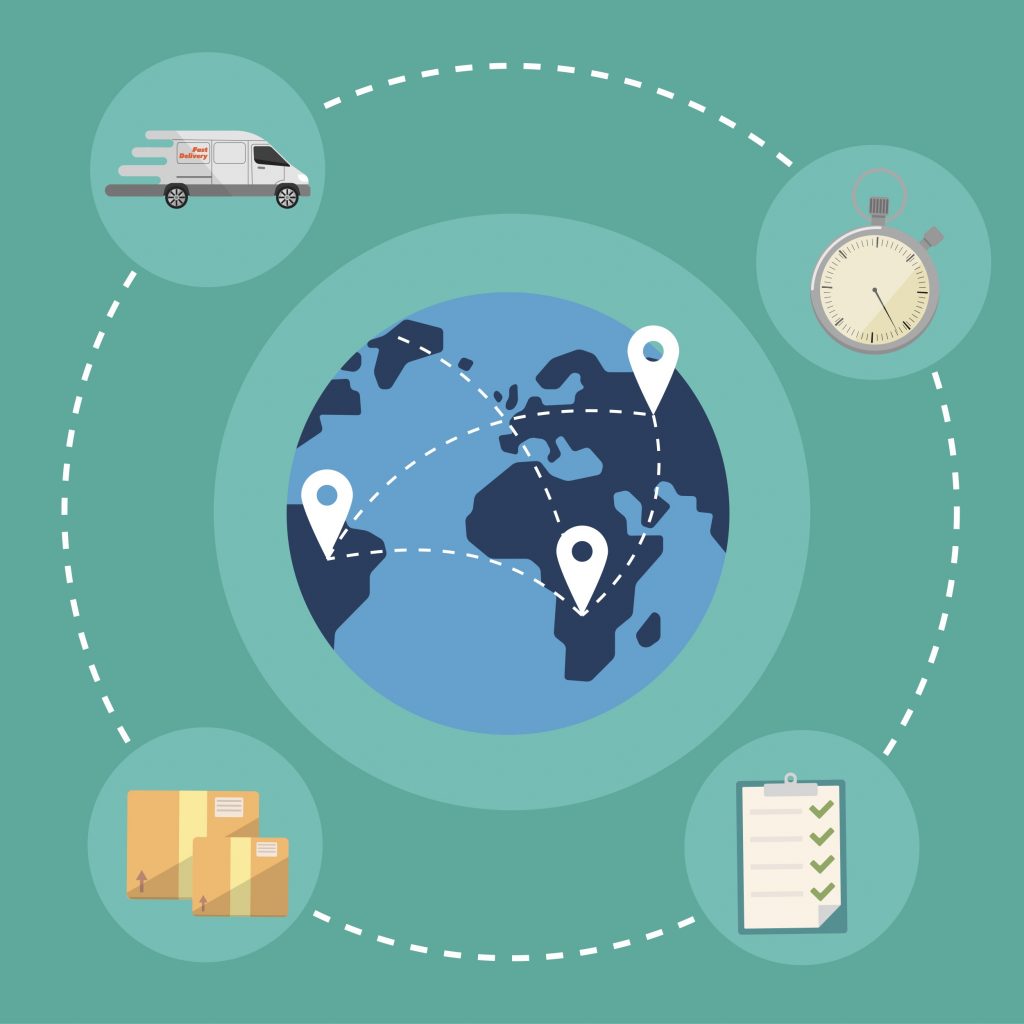 As a retailer, you have complete control over curating an exceptional customer experience until your order is checked out. But once your order is out for delivery, you inevitably have to rely upon shipping partners such as FedEx, UPS or DHL who may not share your values or motivation.
International eCommerce returns are tedious
Your business is bound to falter if you aren't able to ship out and distribute the physical goods to the right locations in a timely manner. You need a strong logistics system in place if you are selling cross border. There are numerous costs associated with shipping your goods around the globe and finding a reliable logistics provider can be tricky. And you possibly cannot be negligent about returns.
About 66% of online shoppers check an eCommerce item's return policy before finally deciding on a purchase which suggests a well-defined return policy will get you a higher conversion rate. If getting the products to the customer was complex, you have no idea how difficult shipping returns is.
International shipping invoice is complex
If you think FedEx and UPS domestic shipping invoice is complex, invoices for international shipments are a lot more complicated. Express couriers like UPS International and FedEx International offer faster and more efficient, reliable services but with a complex pricing structure. The best way to avoid any surprise shipping fees is by becoming familiar with the common surcharges that express couriers have.
With internal shipments, in addition to fuel surcharges, delivery area surcharges, residential charges, there are custom tariffs, delivery duties or VAT. Moreover, depending on the type, weight, and destination of the shipment, the prices tend to be higher.

International shipment gets stuck at customs
There are a host of reasons why a shipment might be stuck in customs. From your goods being prohibited for import to corrections on your paperwork. It is one of the most common international shipping challenges. However, most major carriers will have online resources to help you manage the requirements for customs. To get it out of the customs limbo you should contact your courier directly.
Often, premium couriers hire customs brokers so they can figure out what the issue is and clear your shipment accordingly. Sometimes outstanding taxes may be applicable so you should find out if your shipment has any unpaid duties right away.

FedEx vs UPS vs DHL: The best shipping carrier to employ when shipping internationally
While all shipping solutions offer a way to get your product from point A to point B, more often than not their services differ slightly or vastly.
FedEx international reigns supreme in the air and UPS international has an exhaustive fleet on the ground. But DHL international on the other hand specializes, especially in international shipping. What about USPS, you ask? Well, it is significantly cheaper than the rest but it doesn't have the kind of short term expedited options that FedEx, DHL, UPS have.
Speed of Shipping
FedEx operates around 2500 office locations across the U.S. They are most popular for their overnight delivery, and fast 2-day and 3-day services — their slogan, "when it absolutely has to be there overnight". This is the best carrier for time-sensitive items because no one can do speed as well as FedEx does.
Go fast with FedEx International ; Go wide with DHL International
However, to ship internationally, DHL international is ideal because they have the broadest global presence — the best networks in/to Europe, Asia, and Africa. It's very difficult to beat their on-time delivery and reliability. UPS international has a strong ground shipment game-they have mastered the freight and ground shipping recommended for bulky packages that are not time-sensitive. Their on-time delivery rate is around 63%.
Shipping options from FedEx International
| | |
| --- | --- |
| Service type | Delivery timeline |
| FedEx International Next flight | 24 hours |
| FedEx International First | Delivery is in 1, 2 or 3 business days |
| FedEx International Priority | Time-definite delivery typically in 1, 2 or 3 business days |
| FedEx International Economy® | Time-definite delivery typically in 2–5 business days |
Shipping options from DHL International
| | |
| --- | --- |
| Service type | Delivery timeline |
| DHL EXPRESS 9:00 | Time-critical international shipping needs before 9:00 AM |
| DHL EXPRESS 10:30 | Time-critical international shipping needs before 10:30 AM |
| DHL EXPRESS 12:00 | Time-critical international shipping needs before 12 noon |
| DHL EXPRESS WORLDWIDE | Time-sensitive international shipping needs by the end of the next possible business day |
Shipping options from UPS International

Shipping costs
Price structures may not always be straightforward especially if you are using express shipping services. DHL express worldwide is a highly affordable option. DHL and FedEx both charge way higher rates for same-day delivery service.
DHL Express Worldwide is the most economical shipping option
FedEx international used to be known primarily for their air delivery service but for a while now they have been offering a ground service at low prices. It is cheaper than UPS for packages exceeding 3 pounds. UPS shipping costs tend to be on the higher side.
AuditShipment.com's automated audit engine can help you save instantly on your FedEx, UPS and DHL shipping costs. Businesses effortlessly optimize up to 16% of their shipping costs when they use AuditShipment.com regardless of their shipping volume or destination.
Worldwide shipment tracking and insurance
Through the Declared Value Advantage, FedEx offers up to $100,000 in coverage. However, for smaller and comparatively lower-value shipments, the $100 basic coverage usually suffices. FedEx additionally has a user-friendly online Ship Manager tool that lets you track packages, print labels and save addresses.
FedEx, UPS and DHL offer a basic coverage of $100 for international shipments
Like FedEx, DHL international too offers its customers insurance of up to $100 for the declared value of the shipment and flat insurance options for packages valued at $100 to $300. UPS packages contain a tracking number which is scanned meticulously at every stage of shipment. Although free insurance of up to $100 is included with every shipment, you can additionally buy insurance for declared values of up to $70000 for domestic shipments.
Customer service
If you are seeking in-person assistance you can visit any of the FedEx locations or mailing centers like Home Depot or Staples. If your parcel is delivered to an incorrect address or is lost, FedEx will resolve your claim in less than 30 days. DHL eCommerce option specifically caters to eCommerce shipping needs while UPS is efficient in certain geographies due to its vast networks.
If you are shipping large products, you will realize that FedEx and UPS offer better reliability and rates which is important for guaranteed, business-critical shipments. If you are shipping multiple goods you want to decide whether the pickups are worth the lower rates with FedEx.
Alternatively, since with UPS multiple pickups are not a problem, convenience may ultimately outweigh the higher price.

However, the first step is to have a shipping strategy in place — from what and how you ship to the costs and locations, all of it deserves adequate thought, research, and attention. In order to find the right shipping carrier for international shipping make sure you experiment, reapply, redefine your strategies to stay ahead of the curve and seize all opportunities.