If you are an eCommerce business, you need to find ways to reduce shipping costs.? Especially if you are shipping packages through FedEx, UPS or DHL. For most eCommerce businesses, shipping costs form one of the most substantial expenses. They not only have the power to impact the overall customer experience that you deliver but also decide the profit margins for your business.
A study indicates that almost 28% of the shoppers abandon carts because of unexpected shipping costs. This statistic indicates that the percentage is a loss significant enough for businesses to entice prospective buyers with lucrative shipping options.
How to decrease your shipping costs?
Although shipping costs are definitely an overarching problem for many small businesses. No matter what size you are you have to be resourceful and find ways to reduce the sting. How to save on shipping costs? We are here to help merchants handle their shipping cost-effectively, quickly and easily. 
Explore multiple carrier rates
Once in a while, it is mandatory for all businesses to geek down on their shipping costs. Evaluate different shipping services and their associated rates. A few factors to consider before choosing between shipping carriers such as FedEx, UPS or DHL are:
What is your average package volume?
To which destination do you ship frequently?
What is the ideal delivery speed for your orders? Standard or priority?
Define your shipping profile before diving into other cost reduction techniques.
2. Negotiate with multiple carriers
The pricing schedules of almost all shipping companies are based on volume. The more you ship, the lower your rate, but small businesses may not realize that they also may have negotiating power. If you are a big or medium eCommerce company and happen to ship large volumes of packages what you can do ideally is compare prices and try to convince your carrier to offer lower rates. Get shipping quotes from UPS, FedEx, and DHL. There is a likelihood that if one carrier knows another is vying for your business, you've got something to negotiate.
3.  Get suppliers to use your shipping account number
Persuade your domestic supplier to ship products on your company's FedEx number for instance. It will not only increase your business's shipping volume which will lead to cheaper rates but it will also help prevent suppliers from padding their shipping costs. You can try and include this shipping requirement in your purchase order if you want to further lower shipping costs.
4.  Use PUPs (pick up points)
If you are manufacturing items and shipping them to individual customers, you can also find a local store that will be willing to accept delivery of your manufactured items and your customers can easily pick them up in the store. You are saving money by shipping a large number of items in a single shipment and you will save on packaging costs as well.
5. Factor in packaging and shipping materials
Whether you are talking about boxes, tape, bubble wrap there are always expenses associated with each one which means there's an opportunity to economize. Don't forget to ask your shipping partner if they offer free or discounted packing supplies and lower shipping costs considerably.
6. Opt for regional carriers
When global carriers are expensive go local. Chances are you have a plethora of local/regional options other than UPS, DHL, and FedEx which can help reduce shipping costs. Some regional carriers may even offer better prices. Explore pricing for local companies that will save you money, time and benefit small businesses as well.
7. Explore discounts
All carriers offer discounts selectively depending on the items and volume of packages you are shipping. Depending on what you are shipping, you may be able to find lower rates from certain shippers. Many carriers like USPS for instance offer discounts for shipping CDs, DVDs, and books.
8. Trim excess weight
If you are an eCommerce company shipping goods to customers, you should not overlook the degree to which your products' weight might affect your shipping costs. What you can do is reduce your shipping weight by tweaking your design and making your item lighter. Or experiment packaging designs. You will end up reducing shipping costs!
9. Check out Hybrid options
As more and more merchandise is delivered to your customers' homes, look for these hybrid options to lower shipping costs and improve. FedEx Smart Post, for instance, is a collaboration between FedEx and USPS that offers considerable discounts on typical costs.
10. Reuse packaging
Even if it seems obvious, reusing packaging can be a great way to cut costs while shipping. Boxes are hardwired to experience wear and tear throughout their lifecycle. The end consumer wouldn't typically notice the difference between a scuff on the box coming from its final delivery or if it's from a return shipment that you repurposed as long as they receive the shipment on time. Also, ensure the contents within its protective outer box are safe and sound and you don't end up compromising the quality. 
11.  Use cost-effective cushioning
Bubble wrap is mostly just fun to pop and no one really cares about packing peanuts right? There are a host of environmentally sound and affordable ways to transport items. At the end of the day, all your customers care about is to receive the package in time and in one piece. Brown paper fills work well mostly because it is cheap and malleable. Void fill is important for fragile items and although this slightly heavier packaging technique can increase your shipping rates it's a drop in the bucket compared to paying for a return label for broken items.
12. Decrease the shipping distance
Many brands pay very high shipping fees when they ship to locations that are far away. Shipping zones are the geographical areas that carriers ship to spanning from Zone 1 to Zone 8 for domestic shipments in the US. What are 'Zones'? They measure the distance a shipment travels with the point of origin being located in Zone 1. The farther away the destination is, the higher the zone and more expensive/slow it is to ship. Try and eliminate shipping to higher zones, you can lower shipping costs considerably and save effort over time.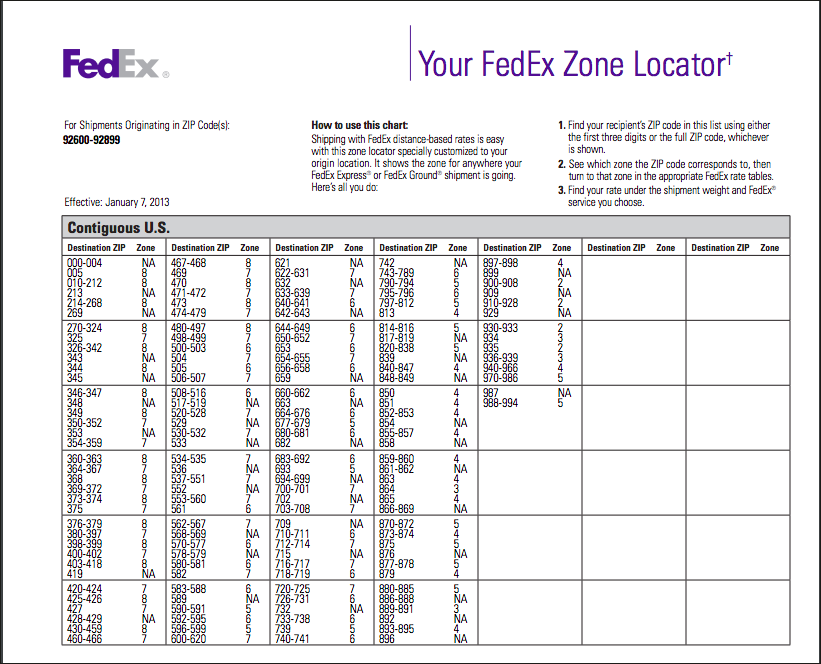 13. Find discounted supplies
Shipping companies like FedEx, USPS, UPS may offer small businesses certain envelopes and boxes for free or even at a discounted rate for certain packaging supplies. You can purchase your packaging supplies in bulk to get wholesale rates. Don't let higher costs upfront intimidate you- you will reduce your average per-shipment cost.
14. Check out what the platform or marketplace you sell on offer
You can always check if the marketplaces you sell on are offering any bulk discount shipping programs or services. They may have features that offer real-time carrier rates, built-in features, shipping apps and integrations with fulfillment software that can provide you with not just better fulfillment services but also better rates reducing shipping costs.
15. Insure with third parties
One great and smart way to reduce shipping costs considerably is to cut extra services which, depending on the overall value of the product you are shipping, could be shipping insurance. It's okay if you do not want or need pertinent shipping insurance for your orders, third package insurers are usually cheaper than going with your shipping carrier- in some cases even half the prices. Of course, this is only applicable to high-value items.
16. Switch from boxes to poly mailers
Depending on the item you are selling, preferably non-fragile products or small items like clothing, switching to a mailer envelope or polybag will be a far more cost-effective method than boxes. The dimensions are smaller, will take up way less room on delivery trucks and using them will require less packaging supplies like bubble wrap and tape. This will save more money!
17. Go prepaid
Did you know that prepaid shipping will get you up to 20% discounts on shipping costs from UPS and FedEx? All you have to do is purchase a certain number of shipping labels upfront. Until the individual order needs to go out, you wouldn't have to affix them to a box. This will save you time and lower shipping costs. Also, this only works when you are shipping orders containing the same weight and dimensions consistently.
18. Be sure of your shipping fees
Ensure you don't lose money or even customers by factoring in all your shipping fees before you bill your customers. There are over 75 charges that could possibly apply to each of your shipments including fuel surcharges, Saturday delivery fees, and signature fees. If the shipping cost is on your customer ensure this is included on their bill .
19. Know the right size
You can use a shipping cost calculator that takes into consideration different factors like package weight, destination, and size. Both FedEx and UPS facilitate instant shipping rate estimation.  It's crucial to use boxes that are the perfect size for your shipments. If you use large boxes for items that otherwise could have fitted perfectly well into bubble mailers or smaller boxes you will end up spending a lot more and eating into your profit margins!
20. Audit your shipping invoices
Most businesses lose a lot of money by overpaying on their invoices, neglecting billing discrepancies and 50 other carrier errors. Shipping invoices from FedEx, UPS or DHL tend to have errors that may go unnoticed. Moreover, FedEx, UPS, and DHL offer money-back guarantees on most service types. Unfortunately if left unclaimed, you would be overpaying on your invoices by up to 16%.
An automated audit service like AuditShipment.com can effortlessly help you save on your invoices and ensure you pay the right price. Moreover, our AI-powered audit can systematically root out all the excess charges and over the threshold fees, draw a comparison between delivery performances and keep a tab on your shipping costs.

Summing Up
As an online business, it is increasingly important to stay competitive in the market. Furthermore, as relevant as it is to increase profit margins, it is also important to offer enhanced, hassle-free and a surpassed level of customer experience. You must optimize shipping procedures that aim at reducing shipping costs. Study your customer personas and plan your strategy around it. With efficient planning and smart practices, your shipping cost can be easily optimized.