Faster order deliveries are becoming a key market differentiator in the ever-expanding eCommerce universe. While having a reliable shipping partner is a blessing in disguise for most companies, global shipping carriers such as FedEx and UPS have steadily increased the shipping rates to astronomical levels. As a result, auditing shipments is considered of the utmost importance for eCommerce businesses. In this post we explain what shipping audit is and why should every shipper adopt it.

No matter how frequently you utilize shipping services, there are certain critical aspects of your logistics that you must be able to handle with the utmost efficiency. One of these aspects is the ability to audit your shipping bill(s). 

A shipping audit is essential for eCommerce business:
To identify cost-cutting opportunities 
To increase efficiency 
To work synergistically with your shipping carrier to improve delivery performance
What is shipping audit?
In the simplest of terms, shipping audit refers to the process of continuously examining and validating all the shipping invoices. The procedure typically allows you to carefully analyze and verify the accuracy of your FedEx or UPS bill. A comprehensive shipping audit should locate instances of overcharging in shipping invoice and service failures due to issues like late delivery.

Having a proper auditing process (by using a good, robust software technology) can significantly help thoroughly audit your FedEx or UPS invoice for every mischarge and errors. More so, every deployed shipment should also be analyzed for errors or service standard violations.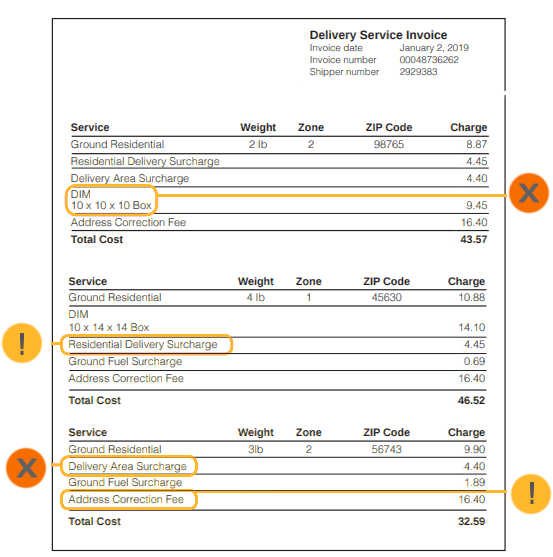 Here are a few service failures or overcharges that your invoice audit must unearth:
Late Delivery Charges: Meaning a parcel or package that was delivered after its guaranteed delivery date and time. Read more about FedEx money-back guarantee, UPS money-back guarantee, DHL money-back guarantee
Non-Shipments: The shipments that were entered into your carrier's system and billed, but did not get shipped from the shipping company.
Incorrect surcharges: Surcharges make up to 40% of the shipping invoice. There is a high likelihood of mistakes in the application of these charges.
Duplicate Charges: Charging twice or more for a single parcel or package.
Incorrect Address Correction charges: Charges imposed on a specific delivery/pick up address that was not necessary or was different than initially agreed upon.
Incorrect Weight Dimension Charges: Miscalculation of the dimensional weight and pricing errors arising due to that.
Incorrect Tariff Rate: Non-application of correct discounts, which was stipulated in the shipper's carrier agreement.
How to conduct a thorough shipping invoice audit?

While many companies like FedEx, UPS, and DHL have their own robust shipping calculating software to ensure the utmost accuracy and service precisions, knowing how the entire mechanism works are equally critical. 

Here's the checklist for auditing your FedEx and UPS invoice:
Are there any duplicate bills generated in the process? – Quite a common issue. it's imperative to check that no duplicate invoices were generated. Whenever one shipment comprises multiple pieces, it is quite possible the shipping cost is duplicated.
Have all discounts been applied? – Should you receive a 60% shipping discount whenever you ship to zone 4?If you and your carrier have agreed on certain discount rates on all or some of your couriers, ensure they're duly addressed and applied to all the invoices you receive.
Were surcharges billed correctly? – Many times, shipping carriers charge additional services. These generally include additional handling charges, weekly pick up fees, delivery area surcharges, residential delivery charges, and other related accessorials. Such charges are exceedingly difficult to monitor over the course of the manual audit. Here
Are the shipping taxes billed correctly? – Last but not least, ensure that most recent tax laws have been duly employed in the invoices raised by shipping carriers. For companies that ship internationally, must ensure that all different taxes and regulations are addressed to avoid any legal issues later.
Why should you automate your shipping invoice audit?

Let's consider the following example:
Say your logistics team has to audit 1000 tracking numbers in one invoice.
Step 1: Upload the tracking number and associated shipping costs on to an excel file.
Step 2: Analyze the various components of the cost.
Step 3: Compare each one of these components with the rates mentioned in the tariff agreement ( another excel).
Step 4: Mark the over the threshold charges. Dispute the discrepancies with shipping carriers.
Step 5: Once carriers approve or deny the disputes, reconcile and follow up
A manual audit is time-consuming, monotonous and worst of all not thorough. There is a higher chance of missing out on eligible refunds.
On the other hand, having robust software that's primarily equipped to track and audit invoices saves you a lot of time and relives your employees from grunt work.
A good auditing software processes nearly an infinite number of data points. On top of that, it identifies errors far more accurately than most skilled humans.
Furthermore, most shipping audit software can be customized as per the needs and requirements of your business. Audit software can be updated from time-to-time to reflect changes in carrier rates or contracts, and streamline processes. Better yet, shipping auditing software empowers businesses with comprehensive datasets that offer deep insights into shipping profiles.
Advantages of automating shipping audit process
Adopting any new technology could be scary at first. Especially when the outcome has a direct impact on your bottom line. Read more on the hard truth about auditing your shipping invoice.
The initial jitters are easily offset by outweighing advantages of using an automated audit service.

A comprehensive shipping audit must offer the following features and functions:
Ensure you are paying the right price to the shipping carrier through SLA compliance
Accessorial charges identification to reduce any kind of unnecessary charges.
Offer automated refund recovery for eligible service failures
Provide transparency into shipping spend and delivery performance along with an in-depth reporting system.
Why AuditShipment?

Shipping carrier invoices are the least understood, most underrated work, and quite non-uniform across businesses. They also have varying levels of complexities, which are often ignored too.
At AuditShipment, we combine robust technology with logistics expertise to provide a super-efficient shipping invoice audit process that has the prowess to help businesses focus on scaling their operations while leaving all the heavy lifting to us. We help maximize shipping cost optimization through our purpose-built reports, save up to 16% on shipping costs, automate the refund process, and help companies save thousands of dollars effortlessly.